The Teaching Firm: Where Productive Work and Learning Converge
By Center for Workforce Development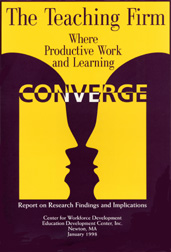 Everyone knows that informal learning takes place, but few organizations know how to benefit from it. A teaching firm maximizes the quality and productivity of its workforce by leveraging informal learning opportunities. The Center for Workforce Development has released its landmark study on the dynamics of informal learning in high-performance organizations. The study is available as a full report and as an executive summary.
Please note this publication is only available as a PDF
Contact Info: Customer Service (1-800-225-4276 x2215)
Published by: Education Development Center, Inc.
Full report
Price: $99.95
SKU: 1901
(295 pp.) Print
Executive Summary
Price: $34.95
SKU: 1902
(60 pp) Print
Download a copy of The Teaching Firm: Where Productive Work and Learning Converge (PDF, 6.25MB):http://www.edc.org/sites/edc.org/files/pdfs/teaching_firm.pdf
Price: Free
(295 pp) PDF