The Diagnostic Teacher: Constructing New Approaches to Professional Development
By Edited by Mildred Solomon; Afterword by Janet Whitla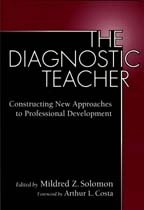 Through profiles of long-term professional development projects implemented by EDC, leading staff developers lay out a new approach to the professional development of teachers. The eight profiled projects, which span various subject areas, share a common vision of "diagnostic teaching."
The diagnostic teacher:
1) seeks to know students' current understandings and misconceptions,
2)deepens his or her own subject knowledge and makes judgments about which concepts are worth teaching, and
3) continuously assesses his or her own practices in light of students' understanding.
The book offers a blueprint for restructuring the role of the staff developer and for cultivating professional learning communities within schools.
Contact Info: Stacy Piszcz-Shaw (1-800-225-4276 x2388)
Published by: Teachers College Press Order Info
Paperback
Price: $22.95
SKU: 3862-X
(336 pp) Print
Cloth
Price: $48.00
SKU: 3863-8
(336 pp) Print