IT Pathway Pipeline Model: Rethinking Information Technology Learning in Schools
By J. Malyn-Smith, J. Donaldson, V. Spera, J. Wong, R. Kimboko, C. Llorente, M. Miller, S. Bredin, V. Guilfoy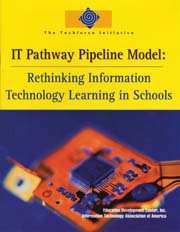 What will it take to educate a society of knowledge workers? The Information Technology (IT) Pathway/Pipeline Model proposes a progression of skills and knowledge that links educational technology skills for learning with IT skills needed for success in high skilled, high wage careers.
Contact Info: Dorothea Wheeler (1-800-225-4276 x2136)
Published by: Education Development Center, Inc.
Bulk discounts available. Does not include shipping and handling.
Price: $19.95
(14pp.) Print