Critical Transitions: Human Capacity Development Across the Lifespan
By Beryl Levinger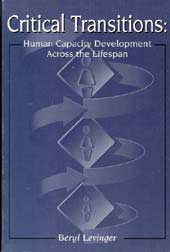 Critical Transitions focuses on the vexingly difficult question: For developing countries, what is the most affordable, sustainable, and efficacious strategy for building the level of human capacity needed for individuals and nations to survive and thrive in the 21st century? Dr. Levinger draws on findings from such diverse fields as development economics, cognitive science, and futurology to propose a comprehensive model for human capacity development.
Contact Info: Erin O'Brien (1-800-225-4276 x2619)
Published by: Education Development Center
First copy is free! Additional copies are $5.00 plus s&h.
Price: Free
SKU: 9912
(155 pp) Print