Building Strong Public/Private Partnerships in Information Technology: A Cross-Cultural Primer
By The Techforce Initiative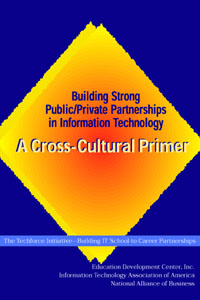 This guide will help educators and employers working in Information Technology School-to-Career partnerships understand the concept of organizational culture, recognize the common issues that interfere with partnership building, and implement strategies to build strong and successful educator/employer partnerships.
Contact Info: Dorothea Wheeler (1-800-225-4276 x2136)
Published by: Education Development Center, Inc.
The price does not include shipping.
Price: $19.95
(41 pp) Print