The Community School Alliances Project: Advancing the State of the Art of Community Participation in Basic Education
By The Community School Alliances Project Staff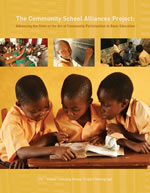 The Community School Alliances (CSA) Project was a successful, innovative effort to strengthen the role that communities play in primary school education in Ghana. This short monograph is intended to give readers a flavor for what CSA accomplished, what the project was all about, and the contributions that CSA made to advancing the state of the art of basic education. It is divided into two sections: Part One – Technical Brief, provides readers with insights into CSA approaches, tools, and methods. Part Two - CSA, Staff and Participant Perspectives, gives readers a feel for what the project looked like on the ground.
Contact Info: Aidyn Mills (1-800-225-4276 x2603)
Project Website: Ghana Community School Alliances (CSA) Project
Published by: Education Development Center, Inc.
Download a copy of The Community School Alliances Project: Advancing the State of the Art of Community Participation in Basic Education (Adobe Acrobat required): http://www2.edc.org/GLG/CSA%20Monograph.pdf
Price: Free
(16 pp.) PDF