The Influence of Child Care Health Consultants in Promoting Children's Health and Well-Being
By Staff of the Healthy Child Care Consultant Network Support Center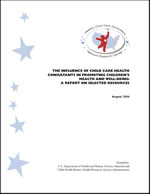 This publication presents findings from a synthesis of 79 published and unpublished resource documents—evaluations, presentations, monographs, etc.—related to health consultation to early care and education programs. The report seeks to map the landscape of child care health consultant (CCHC) services and to identify CCHCs' impact on early care and education programs' health and safety practices and child health outcomes.
Contact Info: Patricia Fahey (1-800-225-4276 x2375)
Project Website: Healthy Child Care Consultant Network Support Center (NSC)
Published by: Education Development Center, Inc.
Download a copy of the executive summary of The Influence of Child Care Health Consultants in Promoting Children's Health and Well-Being (535 KB): http://hcccnsc.edc.org/resources/data/CC_lit_review_Screen_Short1.pdf
Price: Free
(11 pp.) PDF
Download a copy of The Influence of Child Care Health Consultants in Promoting Children's Health and Well-Being (1.1 MB): http://hcccnsc.edc.org/resources/data/CC_lit_review_Screen_All.pdf
Price: Free
(41 pp.) PDF