Disasters and the Aftermath: Building Life Skills for Health and Education (Young People's Forum Final Report)
By Michael J. Rosati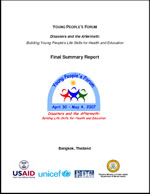 This report includes the outcomes of the Young People's Lifeskills Forum that took place in Bangkok, Thailand in May 2007. Natural disaster survivors from Indonesia, Thailand, and Pakistan gathered together for one week to learn from each other's experiences and bring back key skills to improve preparedness in their home communities.
Contact Info: Stephen Anzalone (2025723700 x3763)
Project Website: Decentralized Basic Education in Indonesia: Teaching and Learning
Published by: Education Development Center, Inc.
Download a copy of Disasters and the Aftermath: Building Life Skills for Health and Education (1.7 MB): http://ies.edc.org/resources/print/youngpeopleforumfinalreportmay07.pdf
Price: Free
(56 pp.) PDF