Jobs for the 21st Century: Indonesia Assessment
By Gerald Boardman, Roehl Briones, Caroline Fawcett, Abdul Hamid, and Yustina Rostiawati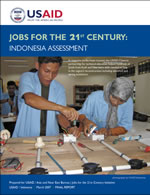 The U.S. Agency for International Development (USAID) and the Chevron Corporation are designing a polytechnic institution in Indonesia's Aceh Province that will need effective job placement strategies to help its graduates find employment in the Aceh, Medan, and Batam areas. This assessment, funded by the USAID Asia and Near East Bureau and conducted by EDC, focuses on three main questions:
What is the demand of firms and industry for technical workers in Aceh and surrounding provinces?
What are the main linkages between workforce institutions and labor demand?
What are the key characteristics of youth workforce in Aceh that will influence job search, recruitment and participation in polytechnic education?
Contact Info: Caroline Fawcett (2025723700 x3719)
Published by: U.S. Agency for International Development Order Info
Download a copy of Jobs for the 21st Century: Indonesia Assessment (PDF, 1.31 MB): http://www.gwit.us/Products/indonesia.pdf
Price: Free
(120 pp.) PDF