Step by Step: A Guide to HIV and AIDS Policy Development for the Education Sector
By David Clarke, Connie Constantine, Mora Oommen, Virginia Ross, and Cheryl Vince Whitman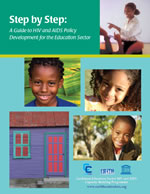 This publication provides concrete guidance for developing a comprehensive response to the HIV epidemic within the education sector. Experience has shown that having an HIV and AIDS policy in place is one of the most effective strategies for minimizing the impact of the epidemic. When there is clear policy, systems and laws can be created that reflect a common understanding across the sector. While this guide is geared towards the Caribbean—which has the second highest prevalence of HIV in the world—its strategies can be modified and applied in other places.
Contact Info: Constance Constantine (1-800-225-4276 x2459)
Project Website: Advocacy and Leadership Campaign to Advance Education Response to HIV/AIDS
Published by: Education Development Center, Inc.
Download a copy of Step by Step: A Guide to HIV and AIDS Policy Development for the Education Sector (PDF, 16.6 MB): http://www.hhd.org/publications/global/step-by-step.pdf
Price: Free
(60 pp.) PDF