Radio Instruction to Strengthen Education (RISE) in Zanzibar: Impact Study
By Zanzibar's Ministry of Education and Vocational Training and EDC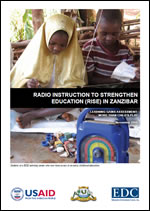 The Radio Instruction to Strengthen Education (RISE) project is a partnership between Zanzibar's Ministry of Education and Vocational Training (MoEVT) and EDC funded by the United States Agency for International Development. It was established in Zanzibar in 2006 to develop and pilot several models of early childhood education service delivery for children in the most underserved areas. Working collaboratively with Zanzibar's MoEVT, RISE has helped build on and expand Zanzibar's existing early childhood education infrastructure through its Interactive Radio Instruction (IRI) activities.
IRI is an interactive teaching and learning methodology that promotes quality learning in diverse environments, including those with shortages of qualified teachers, school infrastructure, and learning materials. Based on child-friendly pedagogy that is inclusive, playful, active, and engaging for young students, each 30-minute broadcast integrates the formal Zanzibar curriculum with games, songs, stories, and activities that encourage problem solving and self-directed exploration.
To assess the impact of the project, RISE conducted a comprehensive evaluation between January and December 2008 with two purposes:
Measure the learning gains of IRI beneficiaries
Investigate the effectiveness of different IRI delivery models
Published by: Education Development Center, Inc.
Download a copy of Radio Instruction to Strengthen Education (RISE) in Zanzibar: Impact Study (PDF, 3.64 MB): http://idd.edc.org/resources/publications/early-childhood-education-zanzibar-learning-gains-assessment
Price: Free
(48 pp.) PDF